8-10-20  Hi folks, I'm still kicking and hope you all are well.  Just checking in to let you know the current status in my shop and also a message about the yearly Bowed Psaltery Gathering I used to host.  I do still take orders for Tenor bowed psalteries.  Throught the years that has been my most popular model through sales.  It is also my favorite personally.  When I am going to play or record using a bowed psaltery, it is most always my tenor psaltery.  I had orders for two that were shipped last week.  I also get quite a few orders for my bows.  If you want to have a tenor psaltery built of your very own, just email me and we will discuss it. 

The 2020 Bowed Psaltery Gathering has been canceled this year.  Gail VanAmberg is the lady that took over hosting the gathering a couple of years ago.  She decided to cancel because of the problems with the corona virus and having no way to know what the status of that would be in Oct.  She also said that she has decided to stop hosting the gatherings in the future.  If I hear of any changes in the status of the gathering I will post it on here.

Here's some more news for bowed psaltery music lovers.  I have a channel on Soundcloud of songs that I have been recording with a couple of friends of mine.  A lot of these do have the bowed psaltery on them.  Listening is free, just go to soundclound.com  to find my channel.  I am Psalteryman on there.  If you register and log in you will be able to listen to all seventy of my songs on there and even create playlists.  It is free. 
I have stopped taking International orders.  A recent experience with a shipment to Germany has led me to knowing it is not worth the hassle.  Sales to US only.

Ringing Strings

Bowed

Psalteries

handcrafted by

Rick Long

Clinton, Tennessee

(865) 660-4026

  psalteryman@gmail.com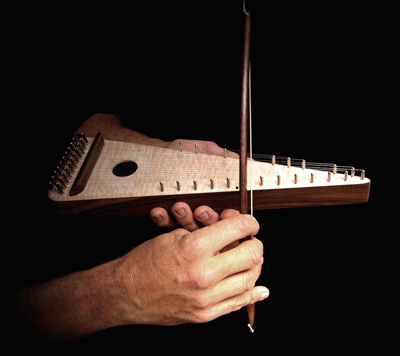 Scroll Down to See What's New

WELCOME

Here in my little corner of the "web" you will find -

Handcrafted Bowed Psalteries

Pride in Workmanship and Service

I have been building and playing bowed psalteries for the past 39 years.  A love of music and woodworking began at an early age.  At my fathers side, I became familiar with walnut, cherry, cedar and other woods native to North America.   I gained great love and respect for the use of these materials  The projects we completed provided the skills required for creating the beautiful instruments you find here today.  My love for music came from my mother, she is very talented and can play the piano really great by ear. Quality and service are my top priorities.  My long experience in playing the bowed psaltery gives me the knowledge to know what works well and what doesn't.  My goal is to create the very best bowed psalteries available anywhere.

I love to tinker and come up with new designs.  Some new ideas come out of my own head.  I do listen to customers, many design changes have come from customer comments and wishes.

Please take a moment to browse the site.  See the variety of figured woods used.   Listen to the samples of my recordings.  Visit my workshop page and see where these wonderful instruments are made.  I take pride in offering lots of sound clips and videos, showing how my psalteries sound and are played.  I even give you some sound clip examples of each psaltery I list for sale.  I believe I am the only builder that offers this on their web site.  The only better way to shop and compare, is to be standing in my workshop trying them out in person.  You are even welcome to travel to East Tennessee to do that.  I do all this because I am very proud of the quality bowed psalteries that I build and want you to be able to judge them for yourself.

Enjoy your time here, come back and visit often.


Blue is Alto

Yellow is Tenor

Purple is D Tenor

Here's how the voices of all the different models of psalteries I build, compared to the piano keyboard in pitch.  You can clearly see that they all have quite a few notes in common.  Some folks are confused by the names soprano, tenor, and baritone, but they are just names to distinguish each model I build.  Other builders may have a different opinion of what they call the psalteries they build.  The important thing to consider is the range of notes, from the lowest to the highest.  This will tell you what to expect.  The first sound clip listed by each psaltery I offer for sale, gives you something to listen to and hear the entire range of notes.  Every builder should do the same, so you have a chance to hear and compare.  Even with some of the notes overlapping, there are still differences in tone.  The has a lot to do with the size of the psaltery soundbox and the type and size of strings used.

Click here to go to my new Ringing Strings Bowed Psaltery Facebook page.  I'll be putting things on there that you won't see on my website.  Be sure to like the page to
receive notifications of new content.  The Facebook page will also give you

another way to contact me for questions, post them on there or pm me.

Copyright Ringing Strings Music 2004-2019  All Rights Reserved