Ringing Strings Bowed Psalteries  

handcrafted by Rick Long

Clinton, Tennessee

(865) 660-4026
psalteryman@gmail.com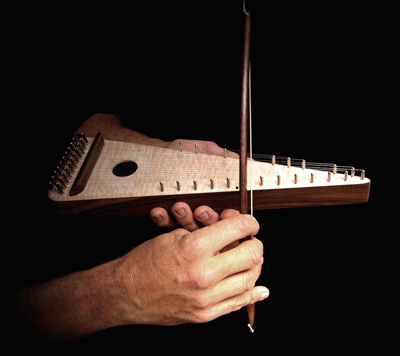 Copyright Ringing Strings Music 2004-2018  All Rights Reserved

I have the first six songs in Vol. One added as soundclips to listen to.  You can use these examples to learn how a song sounds, or play along.  I'll do more of them very soon.

I now have three "play by number" songbooks to help you learn some songs.  The idea behind this Is to provide a source of songs to play, even if you don't know anything about how to read music.  That is definitely not required when using these songbooks. 

When I first started the songbooks all I was building to sell at that time, were the soprano psalteries.  All of the songs in these three books will fall into the range of my soprano psaltery.  The best thing is that they will work with basically any bowed psaltery.

All you need to do is find a method to mark the spaces where you bow with some numbers.  My soprano psalteries start at C and go up 13 notes to A in the next octave.

You can buy small self adhesive numbers at office supply companies and most craft shops.  Lots of choices in the scrap booking department.  A very quick and simple method is to tape a long strip of paper along the edge and just write in the number.

I had only been including these songbooks with my soprano and tenor psalteries, but folks would see them at my craft fairs or demos and ask about buying some for their own psalteries.  I usually had plenty of extra on hand because of this.

I thought I would create a page here on the website to make these songbooks available for sale, with a new twist.  I am going to record an MP3 sound clip of each song being played on the bowed psaltery, so you will be able to hear how the song sounds and be able to play along to learn.  My first thought was to record a CD for each book, but that would just add an extra cost.  It will be really easy to add a sound clip of each tune that you will be able to access at any time.

Notice in the above pictures that I have some paper strips taped along the side of my psaltery, numbers on the right side and sharp and flat notes on the left.  They are centered on the space between the pins, where you bow.  You can make your own with a word processor and printer.  It will take some trial and error to get the spacing just right.  You could also just cut them out and put in place individually.  Rubber cement might work better than adhesive tape.  Office supply stores usually have sheets of die-cut self adhesive numbers and letters available.  Here's a link to what I am talking about.
The 1 is located at my lowest C on this alto psaltery.  The numbers are 1/4" black.

Here's how the "Play by  Number" method works.  For each song you have the title, the lyrics for the first verse of a song, and then a number added over each word that indicates which string you should bow for that note.  Here's an example -

Amazing Grace

5         8      10 8             10              9               8             6                5

A-    maz-    ing          Grace        how        sweet        the         sound! 

  5                 8           10 8                    10                  9              12

That          saved          a                  wretch            like           me! 

10          12  10          12  10           8              5            6   8       8   6            5

  I            once            was          lost          but          now        am         found;

  5                  8             10  8           10           9             8

was            blind           but          now          I           see.

Notice that some words, or even parts of words, have more than one number above.  The word "Amazing" has four notes.  When you start to play the song that will make sense to you.  So if you have your lowest C marked as number 1, you see that this song starts at 5.  As you play the song you need to think how the song goes in your head.  That's the same thing you do when you sing, whistle, or hum a tune.  That melody is going through your head.  That's basically what tells you how long to hold each note.  It's important to draw the note out with your bow, the same amount of time as if you were singing it.  You will be able to hear this by listening to my example of what the song sounds like.

This is a very simple way to learn a song.  If you can read music there are tons of songbooks out there for you.  If you don't you are at a disadvantage, so this method is for you.  Even if you read music, this is still a very simple way to learn some songs quickly.

The Songbooks are $7.50 each plus $2 shipping.  Any two are $14 plus $2 shipping.  You can buy all three for $20 plus ther $2 shipping.  A lot of you that have my soprano and tenor psalteries only have Vol. 1.  Both volumes 2 and 3 are very new.

Paypal is a great way to order these.  Just send me an email at psalteryman@gmail.com and let me know what you want.  I can send you a Paypal invoice to use for payment.  You don't have to have a Paypal account to use this.

The song titles in each book are listed below.  When I have the soundclip recorded and in place, the song title will turn blue.  Just click on it to listen to that particular song.  I'll get Amazing Grace, song 2 in vol. 1, recorded first, so you can try it out using the example above.  I have started adding the sound clips now.  I used a metronome while recording as an aid to get the timing right.  These are not really high quality recordings, but great to use as a tool to learn these songs.

Volume 1

7.    America the Beautiful

8.    On Top of Old Smoky

9.    Clementine

10.  Greensleeves

11.  Tell Me Why

12.  Will the Circle Be Unbroken

13.  Ode to Joy

14.  The Riddle Song

15.  Silent Night

16.  The Ash Grove

17.  Simple Gifts

18.  Joy to the World

19.  God Rest Ye Merry Gentlemen

20.  Infant Holy, Infant Lowly

21.  Away in a Manger

22.  The Holly and the Ivy

23.  O Come, O Come Emmanual

Volume 2

1.  All the Pretty Little Horses

2.  America (My Country Tis of Thee)

3.  Brahm's Lullaby

4.  Come Thou Almighty King

5.  Cockles and Mussels

6.  Fairest Lord Jesus (Beautiful Savior)

7.  For the Beauty of the Earth

8.  Grandfather's Clock

9.  Grandfather's Clock (page two)

10. Leaning on the Everlasting Arms

11. My Hope is Built on Nothing Less

12. Old Joe Clark

13. Oh, Susannah

14. Old Folks at Home (Suwannee River)

15. Pass Me Not O Gentle Savior

16. Scarborough Fair

17. Shenandoah

18. She'll Be Comin' Round the Mountain

19. Streets of Larado

20. Sweet Betsy From Pike

21. There is a Fountain

22. When the Saints Go Marching In

23. Wondrous Love

Volume 3 (All Christmas Songs)

1.   Angels From the Realms of Glory

2.   As With Gladness Men of Old

3.   Away in a Manger (Luther's Version)

4.   Bring a Torch Jeanette Isabella

5.   Come Thou Long Expected Jesus

6.   Deck the Hall

7.   Go, Tell it on the Mountain

8.   Good Christian Men Rejoice

9.   Good King Wencelas

10. Hark the Hearald Angels Sing

11. Here We Come A Wassiling

12. I Heard the Bells on Christmas Day

13. I Saw Three Ships

14. I Wonder as I Wander

15. In the Bleak Midwinter

16. O Christmas Tree

17. O Come All Ye Faithful

18. Once in Royal David's City

19. O Little Town of Bethlehem

20. Pat a Pan

21. There's a Song in the Air

22. We Three Kings

23. We Wish You a Merry Christmas